Nooteboom twin-axle Euro-PX
1 February 2021
Nooteboom twin-axle Euro-PX
We are excited to be able to present the new developed Nooteboom twin-axle Euro-PX low loader.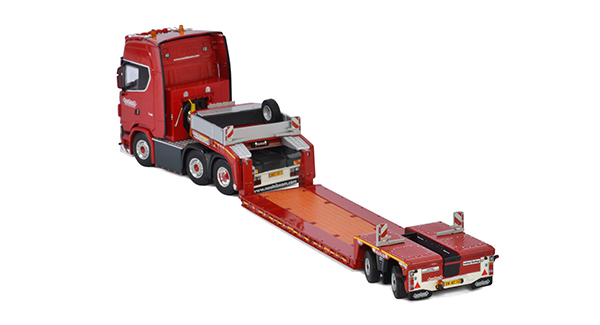 The Trailer
The Nooteboom twin-axle low loader on pendulum axles falls within the standard regulations of 13,600 x 2500 x 4000 mm, allowing it to be driven without permits.
although the trailer can also be extended to create a longer bed. The configuration of the detachable neck ensures that only minimal space is needed between the load and the tractor unit.
All of this, together with the excavator trough at the rear, makes this a trailer than can be used with such great flexibility that we encounter it in an extremely divergent transport segment.
Whether it's an excavator with its boom in the trough, open-top or flat-rack containers, trucks and buses being recovered by salvage companies, wide loads such as large crates, machinery, frames, or agricultural machinery, you'll find it all haled on this twin-axle Euro-PX low loader. Compact and versatile.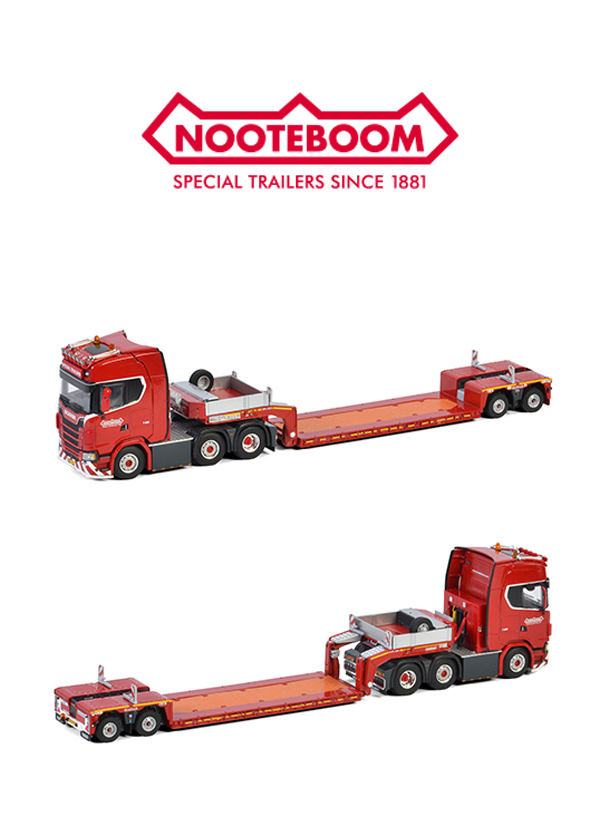 The model
As we've already mentioned, the model is entirely new. The new detachable neck is one of the first things that you'll notice. For this, we've opted for a stable connection to the floor to accommodate heavier loads on the model without the neck being forced to tip too far.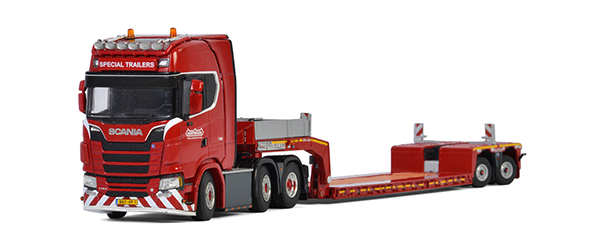 The extendible floor has been constructed to be as thin as possible with maximum load capacity so as to minimize the loading height, something that is also reflected in the model. Future models that we intend to launch with containers can also be fitted with twistlocks in the excavator trough, enabling 20 ft and 40 ft containers to be secured to the floor.
The boom slot can be equipped with two optional partitions to allow for storage of tools when the slot isn't needed for a load.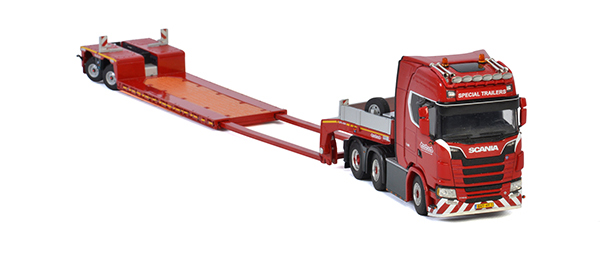 Nooteboom Trailers:
'This year is the 140th anniversary of Nooteboom. For fans and collectors, 2021 is set to be a special year and we'll be launching a range of entirely new scale models in conjunction with WSI Models – not only models based on our most recent transport solutions, but historical classics that many a collector would love to see a part of their collection. We will keep you up to date on our latest scale models on our shop website, Facebook page, Instagram page, and in our newsletters.'
Johan van de Water
Manager Marketing & Communicatie - Nooteboom Trailers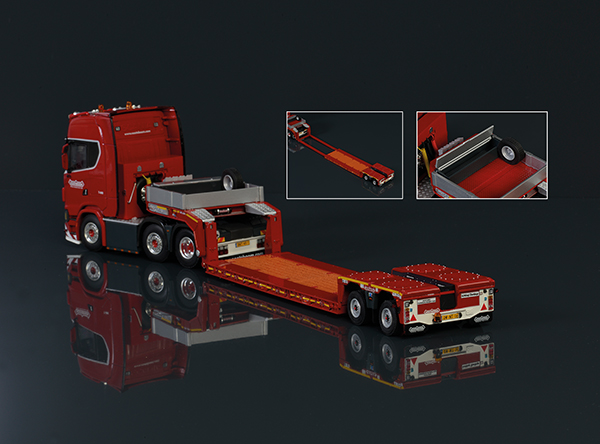 The Nooteboom Redline model will be available from March. The tractor unit for this model is also a first – the first Scania 770S that we have produced, here in rugged 6x2/4 configuration, showing off the newly modified Nooteboom Redline styling.
Click >>>here <<< to reserve the model.
Coming soon…
We are working behind the scenes with renewed intensity and enthusiasm to develop a number of exciting new Nooteboom surprises. Don't miss a thing and follow the news on our media channels.
« Back to the overview