LTM1500-8.1 Jib
12 November 2020
LTM1500-8.1 Jib
Back by popular demand!
We are pleased to announce that the jib for the Liebherr LTM1500-8.1 will be released once again. Recently, we experienced increasing demand to re-release the highly detailed job. Since its introduction, we have released a number of LTM1500-8.1 versions in a variety of company colours. However, most of these series did not include a jib with the right colour. We are about to change that!

New tooling update: Aluminium boom parts!
For the first series of the LTM1500-8.1 jib, we opted to use Acrylonitrile butadiene styrene (ABS) as the material for a number of boom parts. This guaranteed good stability. In the case of long jib lengths and telescope booms, this heightened the sturdiness of the model.
However, developments and innovation never stand still: WSI recently made use of an opportunity to develop and produce mast sections in aluminium. This reduces the weight compared with the die-cast material by a factor of 2.2, while still retaining all the characteristics of a cast metal. We are therefore proud to announce that we have now redeveloped all boom parts in aluminium as opposed to the previous ones made in plastic. This means that we can maintain the same level of stability while also ensuring that there are no more visible differences compared with the other die-cast parts. In short, we are taking our extremely detailed and functional jib to an even higher level of quality by listening to your feedback and requests.
New manual
We will also improve our manual by showing which models you can make with this jib. This is because you can build much more than the entire Fly-Jib, as described. We offer the possibility to literally create any version that is available in 1:1 in 1:50 as well. We will therefore add the Liebherr data to the manual, so that you can use it as inspiration for your model to be showcased in a display cabinet or on a beautiful diorama.
Six universal colours
In addition to the yellow Liebherr version, we are going all in and offering another five colours so that they can be matched with many of the company colours we previously released. To do this, we first researched which colours were the most common so that the majority of people can combine their desired jib with a previously purchased Liebherr LTM1500-8.1. Additionally, we critically reviewed the decorations and implemented many improvements.
The following colours will be made available:
· 04-2107: Yellow RAL1007
· 04-2108: Black RAL9005
· 04-2109: Red RAL3002
· 04-2110: Blue RAL5015
· 04-2111: White RAL9010
· 04-2112: Green (to match Kynningsrud and Nordic Crane)
We expect to be able to deliver all six versions in early 2021 (Q1).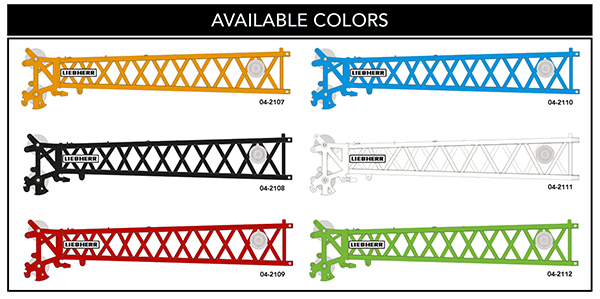 « Back to the overview